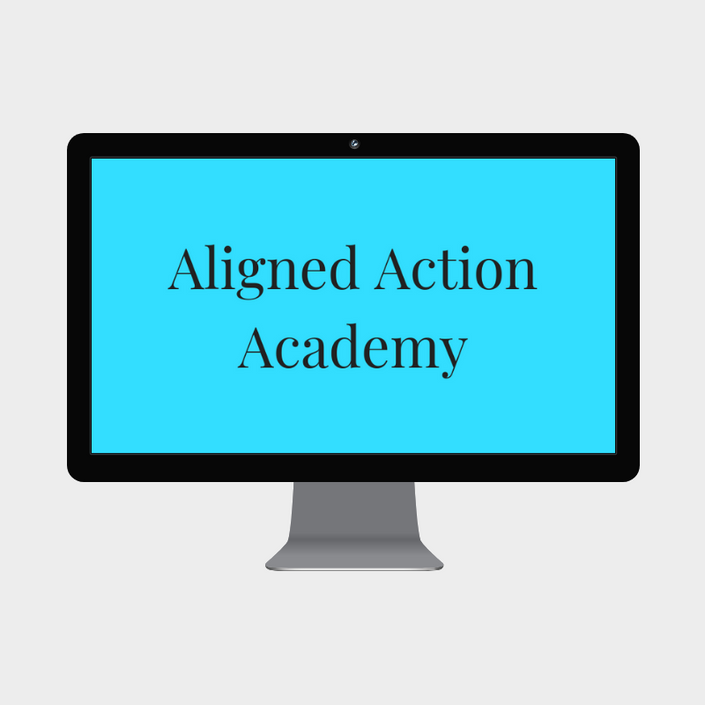 Aligned Action Academy
How To Bring Any Idea Into Reality
Attention: Clarity Seeker & Thought Leader!!
Unleash Your Purpose, Use Your Creative Energy, And Take Massive Aligned Action To Have The Life You Desire
We're on a mission to show HERpreneurs that their idea is ready to see reality!
Is this you?
Have you had an idea stuck in your head for weeks, months, or even YEARS that is calling to you and it's still in your head or in it's beginning stages?
"I want to help people but I don't know how."
"I don't know where to start! This is so overwhelming!"
"I know I want to be my own boss but I don't know what my purpose is..."
"I am so ready to quit my job but I'm not sure how to begin my dreams!"
"I've been wanting to write a book for YEARS but it sits in my head..."
"I want to be my own boss but I just haven't taken the steps to truly do that..."
"I love to write and have thought about writing a blog post but it kinda scares me..."
"I want to launch a podcast but I just haven't started..."
"I wish I had someone to guide me through this…"
We get it, It's f*cking scary. Fear can stop us from a lot of things and it DOES.
The biggest regret of the dying is that they weren't courageous enough to live a life true to themselves. They didn't follow their passion/purpose.
More than 95% of businesses aren't around before their five year mark.
Luckily, fear doesn't HAVE to stop you. You have a choice to make your dreams a reality! You can make that idea blossom and make all your desires come true!
The question is… Are you ready to take massive aligned action and let go of that fear?
A lot of people believe that they can't do anything about the circumstances and situations they are in. Some are destined to repeat their past over and over again. Others will go after someone else's dreams instead of their own.
If you DON'T want this to be you, keep reading...
You're about to see how other females made their dream business come true and how you can too!
Did You Know...
Oprah Winfrey went from wearing potato sacks as clothing to being the most successful African American woman in history!
J.K. Rowling went from being a single broke mom writing her book down on a napkin in a train to writing all of the Harry Potter books.
Marilyn Monroe was moved between different orphanages and foster homes before she became an iconic figure of Hollywood.
Picture yourself in these shoes...
You wrote a few blogs, put it out there, and you have new followers that love you for exactly who you are.
You see the book that was once in your head as a best seller and you now do Book Tours around the world.
You started your successful business and now travel the world with the love of your life.
You started your own podcast, it became a huge success, and now you help & inspire others for a living.
You became a TedX speaker and get asked to speak all around the world and never worry about money again.
Fear doesn't stop you anymore, you hear it, thank it, take action anyways, and have no regrets in your life.
You look in the mirror and you feel proud of yourself and what you have achieved!
Are you ready for this shift in lifestyle?
For the past 12 years, Jaslin Martin (the creator of this course) focused on Personal & Spiritual Development. She graduated from Landmark, Peaceful Warrior, The Shadow Process, and Mastery University (to name a few). At the age of 18, she started her first non-profit organization and at 20 years young she became the founder of her own LLC company. After reading over 111+ books and spending $52,254 in her own self-education, business, and marketing experience she feels ready to share her knowledge with the world.
Jaslin Martin pieced together Aligned Action Academy so that you can let go of your fear, let out your creative juices, and live your purpose the way we ALL are meant to. She did it for herself and is now ready to help others do the same - no matter what their idea is and how big a life they desire!
This wealth of knowledge could cost you tens-of-thousands of dollars anywhere else. It represents an investment of $52,254 and over 12 years of research, hard work, and Jaslin getting over her own fears.
One of the main reasons we put this online show together is to save you that time, trouble, and expenses. In other words, to save you years of frustration, have the life you deserve, and save $52,254.
This program will allow you to:
Accomplish your goals with aligned action steps
Never question your purpose again
Connect with women around the world with the same mindset as you
Create empowering belief systems that will move you toward your dream life
Use your feminine energy to maximize profit
How to align your business plans with the seasons
Get rid of your procrastination with easy steps
Aligned Action Academy is designed to get your idea out of your head and into the real world with proven-strategies, step-by-step guidance, and finally have the life you desire. By the end of this 8 week program you will know exactly what to do next, how to keep moving forward, and feel confident that your dream will turn into a reality!
We Will Do Some Deep Work Around:
Getting Clear On Your Visions & Goals - Find out through this program and the exercises I share on what specific vision & goal you are going after and a plan of action on how to get there (you will literally start to take action throughout this course - it's unavoidable)
Finding Your Purpose - Get crystal clear on your message and never doubt yourself again. KNOW that you are on the correct path.
The Importance Of Focusing On One Thing - Know the secrets to doing one thing until successful
Aligning With Yourself, Earth, and The Universe - Together, we will map out a strategy that will allow you to align to yourself whenever you want, understand yourself in a deeper level, and feel a connection to the earth & the universe
Mastering Your Time - I'll dive into time management, fix your relationship with time, and get into the nitty gritty of how to do more with the 24 hours in your day.
Overcoming Procrastination - I'll break down exactly what is stopping you, why you are stuck, or why you keep stalling your ideas and making sure that you have the tools & techniques so that you don't procrastinate again or at least catch yourself
The Importance of FUN & Celebration!
PLUS you'll receive these BONUSES when you ACT NOW:
Live Q&A once a week with Jaslin Martin herself - Every week get access to Jaslin for one hour in a Q&A session with everyone taking the course together! Any questions you have will be answered straight by her!
One 30-Minute Discovery Call with Jaslin Martin - After the program ends you get one call with Jaslin so she can help guide you on any specific issues you are facing and help you with you dreams
21 Days of Journaling For Creative Transformation PDF - Keep your journaling up throughout the summit to move forward with bright ideas and keep you on track.
An "Idea List"- Keep all your ideas in one area so that you can implement them and incubate them along the way!
An Unlimited Membership Login - You will have unlimited access to this entire course so you can take it again and again. That Idea List above? You will be able to take this course with EACH one of the ideas if you wanted to!
Access To The 5-Day Finding Your Purpose Challenge FOREVER - Before this program launched I did 5-day program that went deep into your finding your purpose that you can keep!
Discount to work with me 1:1 after the program - If you decide to continue to work with me after this program you will get a discount worth the amount you payed for this course!
With the proven system you will soon see in less than six months I was able to grow my email list to over 1,000 people, grow my FB group to over 800, have my own signature program, quit my job, become a digital nomad, and make more money in one month than I made in six. Next I will be launching a podcast, another course, and I am completely rocking it with the same information you are about to get!
Now, I can clearly see why investing in my big vision was what actually made my big vision into a reality. The minute I showed the universe I was serious about leveling up, it leveled up for me.
I decided I was going to be the most sucessful version of ME I could possbily be. I was not going to take broke for an answer. I was not going to let a few dollars stop me from my dreams like so many else have.
So, how did I do it? How did I grow my business, quit my job, and become a digital nomad with the love of my life?
The secret on how I got my business off the ground and have continued to follow my dreams & purpose is jam-packed into this program. You'll learn how to get your idea out of your head and into reality in a way that will allow you to grow as a person and expand to meet the needs of your idea while implementing them along the way.

Investing in your idea from day one pays off. The more work you do to build a strong foundation, the more freedom you'll have long term.
Note: This program can be used with ANY idea that has been locked up in your head and you feel it's about time to FINALLY let it out and play in the real world!
This program is for that woman who is tired of playing small and who is ready to go all out in their lives. This program is for the dreamer that has dreamt up tons of amazing ideas but hasn't brought them into fruition.
Something WAS holding you back.
By taking this leap of faith in this program you are saying "NO MORE!" And listening to your intuition that knows THIS is the next step that you get to take to move your life forward in the way YOU want.
This program is everything I learned while taking massive aligned action towards my dreams. I'm not holding ANYTHING back. It's all here for you.
HOW DOES THE PROGRAM WORK?

This program is only for the woman who is SERIOUS about getting their dreams and turning it into reality. For the ones that are tired of holding some idea in their head and want to finally have it flourish in the real world.

Each week, you will go through the assignments and trainings in the program. There is no one holding you accountable other than yourself, so print out the available schedule and hold yourself to the trainings and soulwork.
This program was made for the girl that is ready to start living her dreams.
Each of the sessions will be recorded so that you can revisit them whenever you want. The online course "Aligned Action Academy" will be available to you for life.
You will have 24+ videos & audios, over 80 pages of pdfs, guided meditations, journal prompts, and much more throughout the course.
For 8 weeks you will have 3 days of each week that you will enter this course, watch the quick video, listen to the audio, and work on your pdfs. Throughout the course you will also directly be working on your idea and have like-minded females doing the exact same thing.
Here is a breakdown of each week:
* Week 1: Idea
Get clear on your vision for massive inspiration
Connect to your intuition for complete clarity
Know what's kept you stuck so it CAN'T happen again
* Week 2: Inspiration
Unleash your creativity like never before
Learn to get in "the flow" whenever
Get in tune with your heart and never question yourself again
* Week 3: Breakdown
Get to know the TRUE reason you feel (and soon felt) stuck
Overcome fear & procrastination
Learn to handle breakdowns and move them toward breakthroughts
* Week 4: Incubation
Learn to move your idea out of the backburner
Take a leap towards your dream life
Get ready for a massive shift... and... JUMP!
* Week 5: Strategize
Discover my all time favorite GPS Method
Create a new relationship with time
Find out what to do after you leap
* Week 6: The Cycle
Learn how to align to yourself throughout the ups & downs
Align to LIFE & all it's wonders to work WITH the cycles
Get to intimately know the two energies within you and use them wisely to boost your ideas
* Week 7: Breakthrough
Learn what your self worth has to do with your net worth
Get mentally prepared for the next level of your idea
Notice the "New You" you have become
* Week 8: Celebration
Keep the momentum going with easy steps
Stay in touch with the allies you have created & learn skills to make more
CELEBRATE your success with everyone!
BONUS: EVERY WEEK FOR 8 WEEKS YOU WILL HAVE JASLIN ON A Q&A CALL FOR ONE HOUR MAKING SURE TO HANDLE ALL OF YOUR QUESTIONS AND CHECKING THAT YOU ARE ON TRACK. THIS WILL NOT BE AVAILABLE IN THE FUTURE.
My intention in running the Aligned Action Academy program is to shift and stretch you to even higher levels of thought. By the end of these 8 weeks you will leave with a solid vision and a game plan for your life & business while also taking massive action throughout the course itself.
OUR 100% GUARANTEE MEANS NO RISK TO YOU!
When you upgrade today, you have a no-questions-asked 2-week money back guarantee (By May 20th).
Click on the button below to get started!
P.S. With this course you'll own the essential teachings and key practices for a successful business and the life of your dreams with lifetime access.
P.P.S. If you play full out in these 8 weeks, listen to each video & audio, do the soulwork, and engage with your fellow like-minded sisters - you will be able to take MASSIVE aligned action and in no time you can make triple the money that it takes to enroll in this course. That's IF you play full out and IF your dream is big enough <3
P.P.P.S. I'm in your corner <3
Frequently Asked Questions
When does the course start and finish?
The course starts on May 6th and will run for 8 weeks afterward. By enrolling in this course you will also have lifetime access to all the recordings and soulwork!
What if I am unhappy with the course?
We would never want you to be unhappy! If you are unsatisfied with your purchase, contact us in the first 2 weeks (before May 20th) and we will give you a full refund.
What idea should I focus on during this course?
In the first week we will go over this more in detail so you don't have to be 100% certain. What you do have to be certain about is that you are ready for a massive shift in your life and that you are tired of letting fear hold you back. If that's you, then get ready to take aligned action and to start your new life!
How do I know this program is right for me?
Aligned Action Academy is for the clarity seeker that is ready to transform. They feel there is a deep calling inside of them to serve and give more but don't know how to take the next step. You find yourself doing everyone else's work, working your 9-5, but NOT your calling… Until now. AAA will give you the blueprint, the tools, the tribe, and a guide to letting go of fear, procrastination, and worry - and take a leap of faith. At the end of this course you will feel ready to lead while being held accountable and doing the work to create freedom, success, and abundance in the life you desire.
What if I REALLY want to take this course but I don't have the money?
First, Jaslin understands that this may be a worry for some so she offers payment plans on whatever you feel you can afford. Even if its a $1 per month you can get on that payment plan and when you are done paying then you get access to the course <3 Every time Jaslin launches this course the price DOES go up in price so make sure to email
[email protected]
ASAP before the price changes! Either way, if we are being honest, a lot of people SAY they don't have the money but this course is no more than a meal a day for 60 days (8 weeks). That could be your starbucks trip, those extra fries, that donut you picked up before going home, or that bad habit you have of online shopping randomly even when you can't. Take a leap of faith towards YOU. You won't regret it.
That's It. You're at the decision-making point. You can either...
Continue down the path of least resistance, the path you have already been traveling, or... you can choose the road less traveled. The path of least resistance will result in you getting the same outcomes you've always received.
But - if you want something different to happen, if you want to change the direction of your business you're going to have to do something different. Make a new choice, and pursue your new outcome.
OH! One Last Thing...
If you KNOW you want to do Aligned Action Academy and you want to focus on starting your business, becoming a coach, or something that needs more a specific touch to it- right now for the price of the whole course you get to have 4 one-on-one 30-minute calls with me! Throughout the course you get a more tailored feel. If you don't want to share in the Live Q&A's every week or if you know that your specific goals may need more focus than others. This is for you <3
Yes, I love you too!
xoxo
See you in the course!