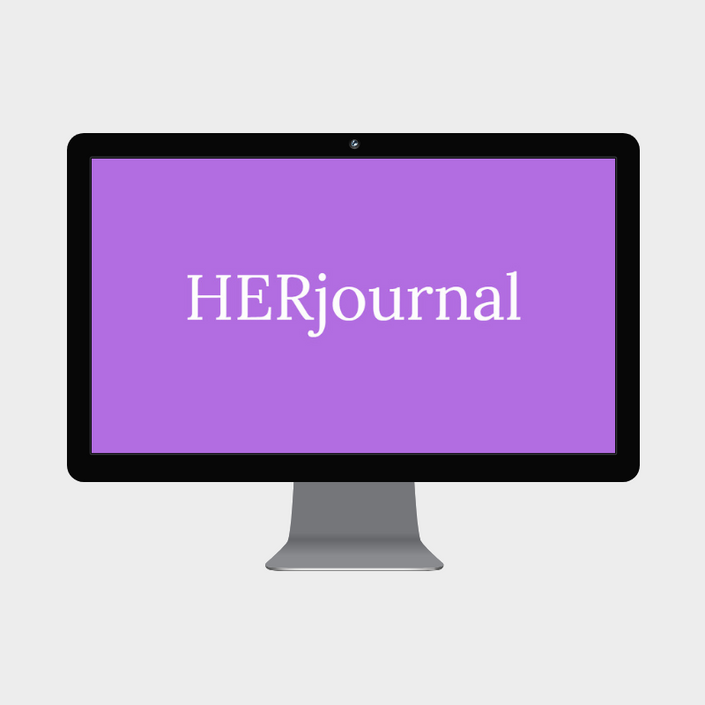 Journal Your Journey
The Basics of Being The Author Of Your Own Life
YOU ARE THE AUTHOR OF YOUR OWN LIFE.
YOU HAVE THE CONTROL.
TAKE A HOLD OF THE PEN.
GRAB A NOTEBOOK.
START.
You always wanted to start a journal but wasn't sure how to begin.

You don't know where you life is heading.

You've been having a lot of stress in your life but don't know how to handle it.
You have problems controlling your emotions.
You find yourself thinking thoughts that you wish you wouldn't.
You have a heartache, have a wall up, and don't know how to bring it down.
You have good ideas but forget to write them down and forget them.
Your room, thoughts, and life are a mess.
You don't want to get to the end of your life asking yourself questions such as...
"Why did my life go this route?"
"What could I have done better?"
"How did I not see this problem earlier?"
Instead, you are ready to truly understand who you are, your passion, and your purpose in life so that you can tell yourself at the end of your life...
Instead, you are ready to truly understand who you are, your passion, and your purpose in life so that you can tell yourself at the end...

I lived my life to the fullest!
I couldn't be happier.

I have no regrets.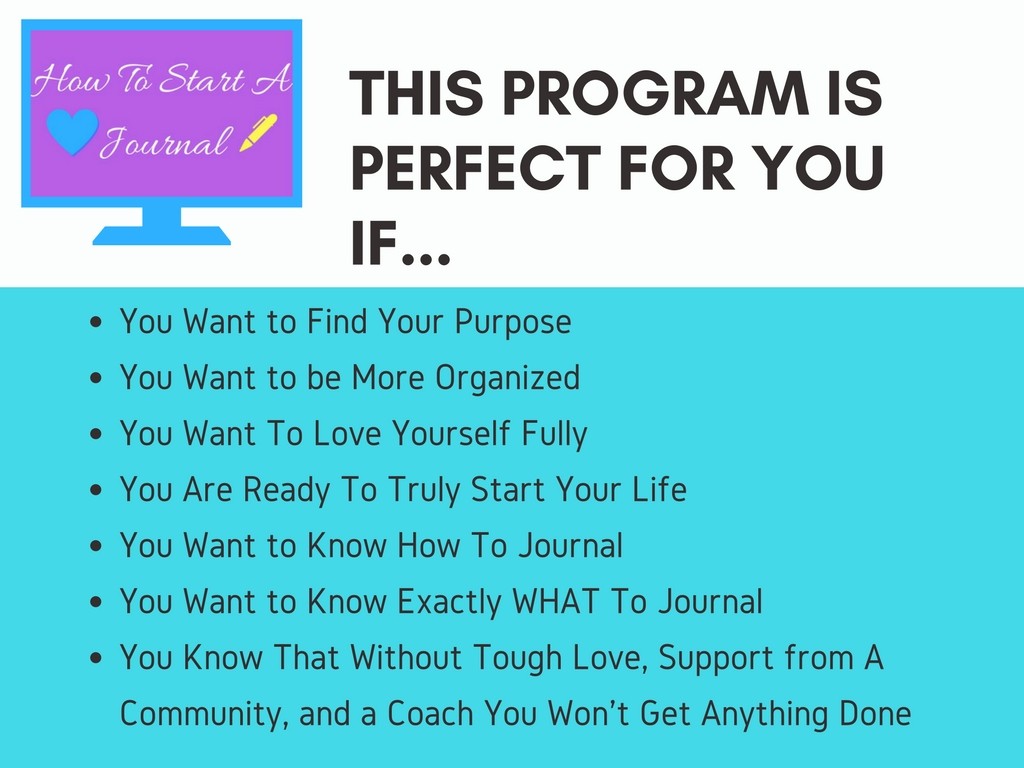 IN JUST 7 DAYS LEARN TO TRANSFORM YOUR LIFE BY THE POWER OF WRITING
Module 1:
Find out exactly how journaling can help you with your daily life and goals
See the importance of being the author of your own life
Have the correct mindset to take charge and find your purpose
Connect with your intuition and heart in a whole new way
Module 2:
Find out exactly what type of Journal is perfect for you
See the different ways to journal and right fit it with your goals
Learn to keep your journal organized and see how the rest of your life starts to be organized as well
Get your creative juices flowing on a constant basis
Module 3:
By creating a daily discipline you will see how timing is everything, not just in journaling, but in your life
Find out exactly what is stopping you from finishing a goal
Learn to create new habits that will transform you
See the importance of reviewing your journal to remember the lessons you have learned
Find out the hidden message to your life
BONUS CONTENT:
101 Journal Prompts (Value of $29)
Have prompts guide you on your new life path to a greater today and an even better tomorrow
See how such simple questions can open your mind and change whats in your pocket, body, and the way you communicate with others
Different Types of Writing Techniques (Value of $29)
Find out different ways that you can write in your journal that will awaken you to a new version of yourself and how you handle situations
Have new techniques that will change the way you view life for the better
One Coaching Calls With Jaslin Martin (Value of $120)

One coaching call calls with Jaslin Martin, the owner of this course and a Life Coach. She specializes on improving energy, mindset, and self-love within your life
Using these Journaling and her Clarity Coaching techniques she can answer any questions you have and guide you on the right path
This is the key to applying what you learn from this course into daily life. Practice makes permanent.
Instant Access to the Spiritual Gainsters Sisterhood Bookclub
This Facebook group is your safe space to interact with others while finding yourself

Accountability is crucial in the beginning stages of journaling!

You're not alone on this journey we call life

Any questions throughout the course can be answered personally by me throughout this Facebook Group
Have Questions? Here Are The Answers
1. Wondering if Journaling is right for you?
"Pouring thoughts out on paper has relieved me. I feel better and full of confidence and resolution."
― Diet Eman, Things We Couldn't Say
"Journal writing is a voyage to the interior."
― Christina Baldwin
"A personal journal is an ideal environment in which to 'become.' It is a perfect place for you to think, feel, discover, expand, remember, and dream." -Brad Wilcox
"Keeping a journal of what's going on in your life is a good way to help you distill what's important and what's not." -Martina Navratilova
"I can shake off everything as I write; my sorrows disappear, my courage is reborn." -Anne Frank
2. Wondering if this course is right for you?
Testimonials from other users
"Got my answers on a piece of paper, already wrote down to buy a journal my next time shopping :] . I feel as if Journaling things is going to help me dive deeper into being more organized & productive!" -Samuel Prieto
3. Is this program beneficial for beginners?
This program is fantastic for newbies!
We are very supportive of any questions asked and are here throughout your learning process.
Best part is, even if you are not a beginner you will still learn from this program
Every human being can get something out of this course as long as they are open to new possibilities
4. How is this program different than other information on the web?
In this course you get to choose your identity
Choose your life
I take you on a step by step basis from start to finish on how to start your journal
You create a mindset throughout this course that teaches you the power of the brain
You have 1 on 1 support from a Life Coach that specializes on happiness and self-love
Any questions you ask will be answered within 24 hours
There is a high level of support and accountability so when you say your goal we follow up and make sure you keep your word (Integrity is everything)
You have on going access to this program
You learn SO much more than journaling
5. What is the pace of this course?
Each module is dripped to be released on a weekly basis designed so there is no rushing and no overwhelm!
6. What is the weekly time commitment?
You put in the time that you believe is necessary for this
Each module contains 3-5 videos no longer than 10 minutes each that come with rich content and easy to follow step by step guide. These modules also come with text and PDFs with more in depth detail and action steps to guide you along the way.
Course Curriculum
Introduction
Available in days
days after you enroll
Inside The Journal
Available in days
days after you enroll
Developing the Journal Habit
Available in days
days after you enroll
A Letter From The Author Of This Course:

Hello, my name is Jaslin Martin. I created this course because journaling has impacted my life so drastically that I just HAD to put it out there in the world for others to see the massive change just carrying a notebook can do for you.
In 7th grade I was the girl that carried a book to read with her everywhere. I smiled, at my books. Fantasies were my happy place, my safe haven from the world. I would go to parties, lunches, funerals, you name it, and just read in a corner. I was one straight up introvert person.
In 8th grade I started to open up. Still a bookworm and always a bookworm, but this time I decided to write a book. In the process of writing my own book, I found myself. This is when I realized the power of writing. I started to carry a notebook with me everywhere I went (as well as the current book I was reading) and through time I grew into a person I could be proud of.
In 9th grade I started to master writing in a constant basis. I wrote down my emotions that I felt I could not share, random trains of thoughts, future ideas that I would later make a reality, and who I wanted to be for myself.
Now, eight years after picking up my first journal... I created a course to share what I have learned for others can grow in a faster period of time than I. I am here to teach. I am here to love. I am here to support all of you in whatever journey you decide to take. I am here for you.
Yours Truly,
Jaslin Martin
P.S. Create A Nice Day!
Your Instructor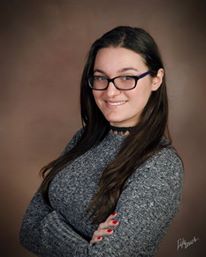 For the past 12+ years, Jaslin Martin-Varzideh (the creator of this membership) focused on Personal, Business & Spiritual Development. She graduated from Landmark, Peaceful Warrior, The Shadow Process, Digital Marketer, and Mastery University (to name a few). At the age of 18, she started her first non-profit organization and at 20 years young she became the founder of her own LLC company. After reading over 111+ books and spending $52,254 in her own self-education, business, and marketing experience she feels ready to share her knowledge with the world.
Jaslin Martin-Varzideh pieced together HERunleashed so that you can let go of your fear, let out your creative juices, and live your purpose the way we ALL are meant to. She did it for herself and is now ready to help others do the same - no matter where you are and where you want to be it's possible!
This wealth of knowledge could cost you tens-of-thousands of dollars anywhere else. It represents an investment of $52,254 and over 12 years of research, hard work, and Jaslin getting over her own fears.
One of the main reasons we put this program together is to save you that time, trouble, and expenses. In other words, to save you years of frustration, have the life you deserve, and save $52,254.