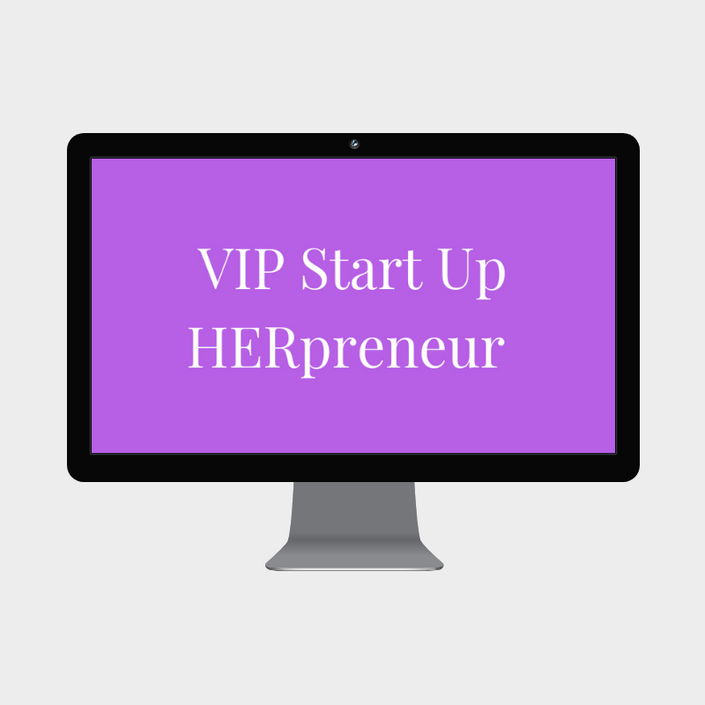 Start Up HERpreneur Summit
Attention: Start-Up Female Entreprenurs!
Learn How To Unleash Your Creative Energy, Feminine Divinity, And A Rocking Business
We're on a mission to prove HERpreneurs it's possible to create the business of your dreams and enjoy the freedom that comes with it.
Is this you?
Are you stuck in a 9-5, making little to no money, and wishing you were your own boss?
"I want to help people but I don't know how."
"I don't know where to start! This is so overwhelming!"
"I know I want to be my own boss but I don't know what my purpose is..."
"I am so ready to quit my job but I'm not sure how to begin my dreams!"
"I wish I had someone to guide me through this…"
We get it, we live in a world where people tell you to work 40 hours, for 40 years, and retire with 40% of your income (40-40-40 plan). We also live in a world where women make less than men on average.
Women on average are losing out on $10,086 in pay each year because of the pay gap, according to the National Partnership for Women & Families.
The 40-40-40 plan means,"work on a JOB, 40 hours a week for 40 years and retire on 40% of your BASIC salary"
Luckily, the world is shifting and now we can work from home, make over six figures, and travel the world all while wearing our fuzzy socks and have more than enough time for our self-love.
The question is… Are you ready for this shift?
A lot of people believe that they can't do anything about the circumstances and situations they are in. Some are destined to repeat their past over and over again. Others will go after someone else's dreams instead of their own.
If you DON'T want this to be you, keep reading...
You're about to see how other females made their dream business come true and how you can too!
In the 'Start-Up HERpreneurs Summit,' you will have 21+ experts showing you how they started their own business and created success for them and their family.
Jennifer Grace had 6 logos, 6 businesses, and 6 failures. Now, she has a rocking business, an amazing female tribe, and is known as the #1 Life Coach in South Florida. Oh, and, she is a Hay House Author!
Marisa Moris created a spiritual business using her gifts, wrote 25 books, and is now a Hay House author with her own Radio TV Show.
Michele PW was first a freelance copywriter, then created her own copywriting company, and now has over 8 books that she personally wrote and a business with tons of copywriters working for her.
Picture yourself in these shoes...
Where, on a regular day, you can wake up in pajamas, grab a cup of tea, and do what you love from your laptop
Imagine taking a break in the middle of the day, grabbing a book, your teddy, and relaxing because you feel like it
On Mondays, you decide to make it a full self-love day with bath bombs and face masks
You have love-mail from tons of clients and a waiting list of people waiting to be your client
Take the day off and spend it with your friends & family with no worries or stress
You pay your bills a year in advance so you don't have to worry or see them
Have a Virtual Assistant handle the stuff you don't want to handle
You tell your significant other that tomorrow you would like to go to Paris, you buy an airplane ticket that day, and take off the next
You look in the mirror and you feel proud of yourself and what you have achieved
Are you ready for this shift in lifestyle?
For the past 12 years, Jaslin Martin (the host of this show) focused on Personal & Spiritual Development. She graduated from Landmark, Peaceful Warrior, The Shadow Process, and Mastery University (to name a few). At the age of 18, she started her first non-profit organization and at 20 years young she became the founder of her own LLC company. After reading over 111+ books and spending $52,254 in her own self-education, business, and marketing experience she feels ready to share her knowledge with the world.
Jaslin Martin put together the Start-Up HERpreneurs Summit with 21+ experts such as Nancy Levin, Kelley Kosow, Jennifer Grace, Marisa Moris, Lauren Eliz, and Stephanie Bellinger. They will cover topics on how they built their empire while using the law of attraction.
This wealth of knowledge could cost you tens-of-thousands of dollars anywhere else. It represents an investment of $52,254 and over 21 people's experience and years of acquiring the life of their dreams as a female entrepreneur.
One of the main reasons we put this online show together is to save you that time, trouble, and expenses. In other words, to save you years of frustration, have the life you deserve, and save $52,254.
This program will allow you to:
Get a whole business strategy you can't wait to implement
Accomplish your goals with action steps
Connect with women around the world with the same mindset as you
Create empowering belief systems that will move you toward your dream life
Get the cutting edge strategy to move your business forward
Become an expert in your field
Know exactly how to brand and announce your company is open for business
How to sell your services with love instead of fear
Use your feminine energy to maximize profit
How to align your business plans with the seasons
Learn how to organically grow your audience base
Get rid of your procrastination with easy steps
Here's what you get in your Start Up HERpreneurs Toolkit Membership:
Downloadable MP4 Video Recordings - of each session in the Start-Up HERpreneurs Summit
Downloadable MP3 audio recordings - of every session in the Start-Up HERpreneurs Summit
A Membership Login That You Can Keep Forever For You Organizers Out There
BONUS PACKAGE of gifts from the experts including ebooks, how-to guides, 30-day plans, and more!
As a HERpreneur participant, you'll receive free access to every session and replays up to 72 hours.
As a HERpreneur Toolkit Member, you'll receive lifetime access and 7 extra bonuses.
PLUS you'll receive these BONUSES when you ACT NOW:
A Wheel of Life, Health, and Soul Guide For Your Life - The only way to get where you want to go is to know exactly where you are NOW and create a plan of action to move forward.
21 Days of Journaling For Creative Transformation PDF - Keep your journaling up throughout the summit to move forward with bright ideas and keep you on track.
101 Journal Prompts - Keep these for after the summit to keep your great new journaling habit up.
Access to HERsisterhood Book Club's Past Books + Author Interviews - Hear more interviews by Nancy Levin, Michele PW, Jennifer Grace, and other authors NOT in the summit talk about their books and guiding us along the way.
An "Idea List"- Keep all your ideas in one area so that you can implement them and incubate them along the way.
The GPS Method Course - Know your Goals, get rid of any Problems that may show up along the way, and find the Solutions to move forward.
Sneak Peak Preview of Clarity Catalyst - Get a preview of Week 1 of 8 of the Clarity Catalyst - the course that changed Jaslin's life and was once called 'Creativity In Business' by Stanford University.
Package Value: $367 PLUS $410 in Bonuses = $777
Regular Price $97
LIMITED TIME OFFER FOUND ON THIS ONE PAGE
$17
But don't delay! This price is ONLY available on this ONE PAGE!
After this page, the price goes up.
OUR 100% GUARANTEE MEANS NO RISK TO YOU!
When you upgrade today, you have a no-questions-asked 30-day money back guarantee. As a sign of our love, you can keep the bonus package with gifts from our experts!
Click on the UPGRADE NOW button below to get started.
P.S. These interviews will be emailed daily after March 1st, 2019 and the replays will be available for only 72 hours. Only Start Up HERpreneurs Toolkit Members will have access to the recordings forever.
P.P.S. Don't forget you have a 30-day money-back guarantee when you order the Toolkit Membership today. This price will ONLY be on this one page. Prices will go up to $97 soon!
With this toolkit you'll own the essential teachings and key practices for a successful business and the life of your dreams.
Frequently Asked Questions
Why THIS Summit? What makes this summit different?
The diversity of the speakers allows for a wide range of information from all around the world. Literally. Here is a list of all the speakers: Jennifer Grace, Nancy Levin, Kelley Kosow, Michele PW, Michelle Tillis Lederman, Marisa Moris, Stephanie Bellinger, Lauren Eliz, Taylor Simpson, Olivia Seline, Natalie Brite, Shannon Wooten...
Why have a free version and a price point?
We wanted to give everyone the opportunity to have their dream life. With the free version, anyone can see the interviews for 72 hours after they have been released. With the toolkit membership, you will get forever access to each interview and more! We know that some of you may want to save this information for future reference. Others may not have the time to watch Having two options allows people to choose: Option 1: If you have the time, but not the money, pick the free version. Option 2: If you have the money, but may need more than 72 hours to watch each interview, we gave you that option as well. Example. FREE VERSION: March 1st - Day 1 is emailed to you (72 hour window) March 2nd - Day 2 is released (72 hour window), Day 1 has 24 hours left March 3rd - Day 3 is sent out (72 hour window), Day 2 has 24 hours left, and Day 1 is no longer available Example 2. TOOLKIT MEMBERSHIP: February 3rd - Day 1 is released through email and a membership site for unlimited usage February 4th - Day 2 is released through email and a membership site for unlimited usage February 5th - Day 3 is released through email and a membership site for unlimited usage
Is there a guarantee?
Yes! We have a 30-day money-back guarantee. Even if you decide that the Toolkit is not for you, you can keep the Bonus Package filled with extra goodies!
How long will it take to get the access?
Both the free version and toolkit membership will be open on March 1st 2019. The free version will end at the beginning of April. The toolkit membership gives you forever access with downloadable options.
Am I really going to get good advice?
Imagine hanging out with 21 experts for 21 days. Jim Rohn says "you become the top 5 people you spend the most time with." Well, imagine listening to female entrepreneurs on how they started their business and giving you the inside success clues again and again. You are bound to learn something useful to get start your business and live the life of your dreams. In the process, you will find yourself thinking like they do, feeling like they do, and living like they do. To top it all off - you will gain relationships worth millions in the exclusive Facebook group!
That's It. You're at the decision-making point. You can either...
Continue down the path of least resistance, the path you have already been traveling, or... you can choose the road less traveled. The path of least resistance will result in you getting the same outcomes you've always received.
But - if you want something different to happen, if you want to change the direction of your business you're going to have to do something different. Make a new choice, and pursue your new outcome.
This course is closed for enrollment.